At the end of every year we tend to find ourselves reflecting. We fondly remember those moments that made the year great as well as wondering how we can change and improve in the next year. As a book lover, one of my favorite end of year rituals is to look back on the books I've read. I admire the beautiful covers. I compare reading stats with friends to see who's conquered the most reads. And finally, I always try to decide which books were my favorites and on the flip side, which ones I found most disappointing. For this round up I'm focusing on books published in 2016. I'm counting down my top favorite 2016 releases and the five releases from 2016 that let me down the most.
Starting with my most disappointing books of 2016, ranked from least disappointing to most disappointing…
#5: This Is Where It Ends by Marieke Nijkamp    
This is a YA book about a school shooting told from multiple perspectives. The entire story takes course over about four hours, during what should have been a typical school day. I was so excited for this book because it sounded like such an interesting concept and unlike anything I had read before. Ultimately though the book fell flat. It had the bones of a great novel but I felt like it needed more. The different characters voices all felt similar, an
d I never felt connected to any individual character. The biggest problem though was the way the shooter is handled as a character. I personally feel like some chapters should have come from the shooters perspective. I needed to know what was going through his mind. What pushed him to this point. The reader gets brief glimpses at his back story, but only from those who are scared and angry with him. Overall this leads to the shooter being unfairly characterized as a villain, with no redeeming qualities. Overall I gave this book 3 stars. I didn't feel like it was terrible, just forgettable.
#4: The Trespasser by Tana French
This was the latest book from Tana French in the Dublin Murder Squad
series. In this mystery Antoinette Conway and her partner Stephen Moran set out to solve the murder of a beautiful, young blonde. At first the case seems like a straight forward domestic violence case but the deeper the two dig, the clearer it becomes that there is more to the story. I was excited to pick this one up because so many friends and readers whose opinion I trust rave about Tana French. I ended up liking the ending of this book, which is why it received three stars from me, but it starts so slow. I felt like the beginning was unnecessarily slow and information kept being repeated, slowing the pace down even more. The characters also speak in over the top Irish accents, at times making it difficult to understand. I hope to never see the word "shite" again after reading this. On top of that, Conway is one of the least likeable protagonists I've ever come across. She is smug and sarcastic, often without anything to back up her ego. I'd definitely be willing to give Tana French another shot but this one just didn't do it for me.
#3: With Malice by Eileen Cook
I was really excited when I first heard about this book because it is a YA thriller, something there really isn't enough of. Thrillers/Mysteries have been taking the lite
rary world by storm the past few years with hits like Gone Girl and Girl on the Train, but there is still noticeably few written for a YA audience. This story is loosely inspired by the Amanda Knox trial. Two best friends travel together to Italy, but only one comes home alive. The other, Simone, wakes up with amnesia, only to find out she is on trial for the murder of her best friend. Basically my issue with this story was it felt like it had been done already. I'm sick of seeing the memory loss trope used in thrillers. It feels too easy, too convenient. I also felt like this was extremely similar to Dangerous Girls by Abigail Haas, but Dangerous Girls was ten times better. Dangerous Girls was a five star read for me, where as this only got two stars from me.
#2: Truly, Madly, Guilty by Liane Moriarty
Six friends go to a BBQ. The day ends tragically. This is all we know for the first half of Moriarty's highly anticipated new book. Oh.My.God. I was so freakin' excited for this book. Moriarty is one of my must read authors. She could publish her grocery list and I would pre-order it. But……this one let me down. Her writing is still amazing. She knows how to build suspense and create readable, engaging characters. It's just nothing happened for most of this book. It was so BORING. It hurts my heart to not love this book. I wanted this to be my new favorite but the pacing was off, the big reveal was obvious, and none of the characters were particularly likeable. As much as it pained me, I could only give this book two stars.
#1: Eligible by Curtis Sittenfeld
And for the worst book of 2016 (in my opinion)…..Eligible! This book sounded so
good. A modern day retelling of Pride and Prejudice? Yup, I like the sound of that. Curtis Sittenfeld author of Prep? Sign me up. Oh, and that cover art? GORGEOUS. Unfortunately though this book read like mediocre chick lit at best. There wasn't a single character that I like or wanted to root for and the plot was just sort of boring. In fact this book was so forgettable I'm having a hard time pin pointing anything specifically terrible about it. Generally it takes me four to five days to read a book. This book took me a full two weeks, earning itself only two stars from me in the end.
Ok now that I am done ranting, time to put a more positive spin on things. It is time to talk about my favorite books of 2016. This was extremely difficult for me to narrow down because there were so many good books that came out in 2016. Just like my worst five, I'm ranking my top five in order from fifth best, working up to my absolute favorite book of 2016. All of these books were five star reads for me.
#5: All The Ugly and Wonderful Things by Bryn Greenwood
In this novel we are introduced to the character of Wavy, a daughter of meth dealers, struggling to raise both herself and her younger brother. When she is only eight, she witnesses a motorcycle accident of a man named Kellen. She rushes to help him, which starts a love story that spans her lifetime. Reading the premise of this story I was s
cared it would make me uncomfortable and I would hate it. There are uncomfortable moments. That's a given in any story where a girl dates someone much, much older. However, there are so many more beautiful moments in this story. Wavy is one of the best crafted characters I've ever read. The writing is beautiful and the emotion feels so real.After reading this I felt emotionally drained, my emotions bouncing from angry, to devastated, to overjoyed. This is a book that crawled under my skin and buried itself deep inside of me, bringing me back to it long after I finished reading.
#4: The Sun is Also a Star by Nicola Yoon
This was a highly anticipated book for many YA readers, after the success of Yoon's debut Everything, Everything. In this story we follow our two protagonists through one day in New York City. Natasha is a Jamaican immigrant, being deported at the end of the day. Daniel is a Korean American who feels burdened by his parents ivy league dreams. The two meet and embar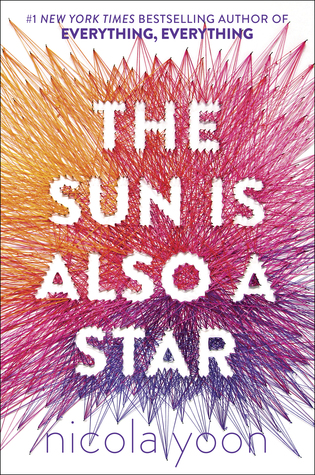 k on a series of adventures through the city, quickly wondering if it was fate that brought them together. On the surface, this is a sweet YA contemporary love story. Dig a little deeper and you will realize it is so much more. This book made me think about immigration and race in new ways. It is peppered with anecdotes about both Jamaican and Korean culture so I truly felt like I was learning something while reading this book. It also raises the question of fate and how all of our lives our connected. One element that made this book so special and unique, was the use of third party perspectives. Natasha and Daniel will mention a stranger in passing, and suddenly the reader is given several pages from that stranger's perspective. I found myself wondering about every person I passed on the street after reading this book. Finally, the ending is perfect. It hit me straight in the feels and I was literally hugging this book when I finished.
#3: You Will Know Me by Megan Abbott
Megan Abbott is quickly becoming one of my favorite authors. Her book The Fever is one of my all time favorites and this one is just as good, if not better. Devon Knox is a gymnastics prodigy with Olympics dreams. However, her tight knit gym is rocked by tragedy
and suddenly everyone, especially Devon's mother Katie Knox, is obsessed with solving the mystery of who did it. Abbott is so skilled at writing atmospheric, quiet thrillers. Her books may not be action packed like other blockbuster thrillers, but she knows how to steadily build up tension until it reaches a boiling point. This book kept me guessing up until the end. The answer felt so obvious, but Abbott makes you feel like you can't trust anyone and suspicion is dealt upon each character. This is a perfect "curl up under a blanket and read late into the night" kind of book.
#2: Dark Matter by Blak Crouch
This book was incredible. What an exciting ride from start to finish. In the late
st book from Crouch we are faced with the question "if you could change your life, would you?" Jason Dessen was on his way to becoming one of the biggest names in science before falling in love and having a child. Instead, he become a professor, but often wonders what his life could have been if he had stayed on that first path. Then one night he abducted and when he wakes up, his life is no longer his life. He is still Jason Dessen but he doesn't recognize the life he is living. I can't say anything more about this plot without giving things away. This is one of those books I think it's best to go into, knowing as little as possible. It is a twisty ride, with multiple OMG reveals, that kept me guessing and wondering where it was headed next. After reading this novel, I can't wait to explore more science fiction in 2017 and I NEED a movie adaptation of this ASAP.
And finally…..
#1: The Mothers by Brit Bennett
This book was my favorite read, not just new release, of 2016 and I had a feeling from the very first page it would be. This is a debut novel by Brit Bennett and man, can that girl turn a sentence. "When we first heard, we thought it might be that type of secret, although, we have to admit, it had felt different. Tasted different too." I was hooked from the very first page. Coming in at only 275 pages, it is by far the shortest book in my top five but it packs a punch. It tells the story of Nadia, who was pregnant after a summer fling with the pastor's son. This secret follows her the rest of her life, shaping her relationship with her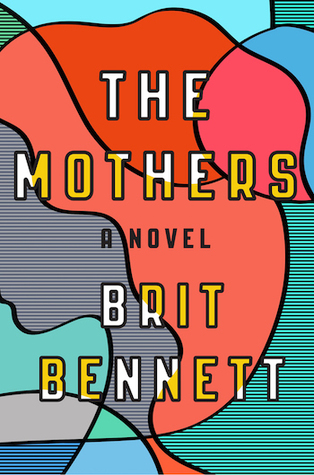 family, her best friend, and her California church community. It switches perspectives between Nadia, Luke the pastor's son, and Nadia's best friend Aubrey. Intermixed in the chapters is this Greek chorus of sorts, made up of the church "mothers," the elderly women of the church who shed their own experience and knowledge on Nadia's story. I finished this book in two sittings because I literally couldn't put it down. I felt like I knew this characters, and I was so emotional for them and their journeys. This would make an incredible book club pick but I recommend it to any fans of contemporary.
So there you have it. My 2016 reading round up. Let me know if you agree with these picks, if you disagree, or if you had others that stuck out for you in 2016.