Six of Crows by Leigh Bardugo
Average Goodreads rating: 4.45 / 5
My rating: 5 / 5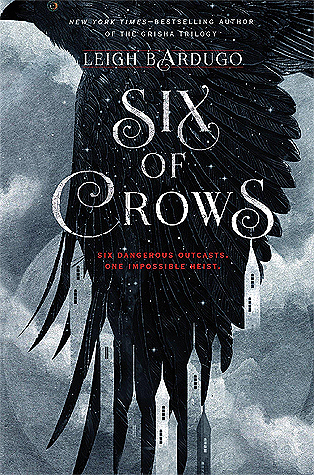 OH. MY. GOODNESS. This book is SO much fun. I loved every moment of it. Now I just need to get my hands on Crooked Kingdom, the follow up to this book, so I can dive right back into this world.
The Premise:
Kaz Brekker has made a name for himself as the trickiest of thieves in all of Ketterdam, a seedy town where rules don't apply. Kaz is given the opportunity of a lifetime, a heist that would be impossible for most, but Kaz might just be able to pull off. If successful he could land his greatest fortune yet. However, he won't be able to do it alone so he enlists a group of six rag-tag misfits. Together they must conquer the impossible.
The Good:
In Media Res.

This story doesn't waste any time building the plot up. From the very first moment, you are dropped right into the middle of the action (in media res) and it doesn't let up the rest of the story. I found this story incredibly fast paced and it definitely kept me on the edge of my seat. Every time I felt like it was slowing down, and things were safe, I was thrown a new curve ball.
The characters are so interesting and so well developed.

This book pings between five of the six main character's perspective. By doing this we really get to know each of the characters. We are little by little given each of their back stories and why they ended up  in the God forsaken Ketterdam. Each of the characters showed growth throughout the story, especially as you understand each of their backgrounds and motivations.
The love connections actually make sense.

No insta-love here. The love stories that we see budding in this story are built on long histories so it never feels like a love story just thrown into the mix for the heck of it. The love stories are also not overwhelming to the plot of story. Often, I find in YA the love story takes center stage and the rest of the plot sort of falls apart. The love connections between characters in this book only seem to help drive the plot forward and help the reader to understand the characters.
Bardugo writes with so much detail you can totally visualize everything happening.

 The imagery. Oh my goodness the imagery in this book. Her writing is incredibly descriptive, but not in an overly flowery, pretentious sort of way. These books would translate so well to movies because as I read about each of the different parts of the world she had created, I could 100% visualize everything in my mind. I wanted to be in their world. I almost got like a Pirates of the Caribbean sort of vibe as she described their travels.
The Bad:
As a five star read, there really wasn't anything that bothered me about this book, but I'm going to run through some of the issues I think other readers may have.
The terminology can be confusing in the beginning.

This duology is a spin-off of Bardugo's Grisha series. I had never read anything else by Bardugo and I didn't think it was an issue not reading the Grisha series first. However, a lot of the terminology they use in the story (Drüskelle, Fabrikator, Grisha, etc.) is introduced in her first series. I felt like as the story developed it was pretty obvious what each of these things were, but in the beginning it is a bit confusing and may turn off some readers. Stick with it though! It does get easier as you get more familiar with the characters.
It can be very dark and violent.

Some of the scenes were incredibly, graphically violent. So if violence isn't your cup of tea, move along. Don't read this one. I read lots of dark mysteries and thrillers, and there were scenes that definitely made me squirm (The eyeball scene!!! Trust me, if you've read it you know exactly what I'm talking about.) The six main characters, who you want to root for and fall in love with, are all pretty much criminals and have all definitely killed people. You're sort of cheering for the bad guys. Often the characters don't seem to have much of a moral code at all, which I know will be hard for some readers to get behind.
Overall:
I LOVED this book. It was fun from start to finish. There were plenty of twists and turns to keep me guessing, and after that ending, I definitely will be starting Crooked Kingdom soon. I would recommend this book to any fans of adventure. If you are someone who has been interested in exploring the fantasy genre, I think this is a great place to start. I never found it overly confusing or complicated, like some fantasy novels can be. I also think because it has a Mission Impossible/Oceans 11 vibe about it, it will appeal to a much wider audience than just those who typically read fantasy.
xo,
Nikki