I'm trying a new trick this year…I'm doing monthly TBR lists for myself. Having a clear goal for each month will hopefully help me get to some of those books that have been sitting on my book shelf for far too long. I may not get to all of these books but these are what I hope to read this month. I'm currently reading Kristen Higgan's On Second Thought.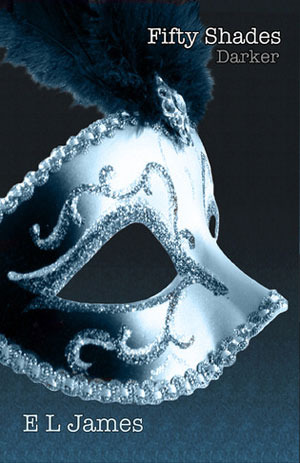 My Not So Perfect Life by Sophie Kinsella

I love Sophie Kinsella and can basically guarantee I will enjoy any of her books. However, I didn't even hear she was coming out with a new book in 2017 until the beginning of January. The minute I did I requested an advanced copy. Planning to start this one later today and will hopefully have a review up of it on it's publication date, February 7.

50 Shades Darker by E.L. James

I hated 50 Shades of Gray. HATED it. Buuuttt… Taylor Swift wrote song for the new movie and now every time I see a trailer for the movie I hear the song playing and I feel myself getting lured in by T. Swift's wonderfulness. It's pretty much a done deal that I will go see the movie and as the saying goes, the book is always better than the movie. I blame this one on Taylor.

Gilded Cage by Vic James

This is the first in a new series coming out on February 14. I have an advanced copy of this one and will hopefully have the review up by its publication date. From what I gather from the synopsis, it is a story set in a Dystopian England being ran by an aristocratic, upper class.

The Bronze Horseman by Paullina Simons

Since it is valentines and all, I need at least one good romance in my life this month. I've had several people recommend this book to me saying how absolutely beautiful of a love story it is. Plus, the historical setting automatically makes it less trashy than your typical romance novel.
Rebels like Us by Liz Reinhardt

This is another advanced copy I was lucky enough to receive for February. I'm pretty excited about this one. It's a YA contemporary about an African-American girl who moves from Brooklyn, New York to a small southern town and has to deal with the lingering racism that remains in the town. Not only do I love a good YA contemporary but this will help with my reading resolution to read about diverse characters.

A Good Idea by Cristina Moracho

This is the last of the advanced copies I received for February and this one was actually from a Goodreads Giveaway! So if you have been entering those and feel like there's no chance of ever winning, don't be discouraged! This is a YA thriller about a girl who must prove her best friend was murdered by the ex-boyfriend. I love a good thriller but I haven't many good ones for the YA set in the past so I'm definitely curious to see how this one goes.

The Edge of Everything by Jeff Giles

This book is getting serious buzz right now. People in the book world are going crazy for this one so I knew I had to get my hands on it. It also happens to be the booksplosion read along for February.
Generally, I start a new book every five days or so. I pretty much know there is no way I will read through all of these but at least I have some books already in mind for February. I'm hoping to get through 6 of the 7. If somehow I turn into a speed reader, or one of these reads exceptionally fast, I'd love to also read my February Book of the Month pick The Possessions by Sara Flannery Murphy.
The end of the month I'm heading on a Caribbean Cruise and will definitely packing several books with me. I'll need some light and fluffy reads I can enjoy beach side with a margarita in hand. I'm thinking possibly Anna and the French Kiss and maybe To All The Boys I've Loved Before. If you have suggestions for fun beach reads leave them below in the comments!
xo,
Nikki