I love good chick lit. I've never been one to read mass market romances, but a goofy romantic comedy? That I am all about. I definitely could never read fluffy rom-coms all the time but sometimes it is just what a girl needs and one of my favorites for feel good chick lit is Kristan Higgins. Her stories are usually guaranteed to make me smile and they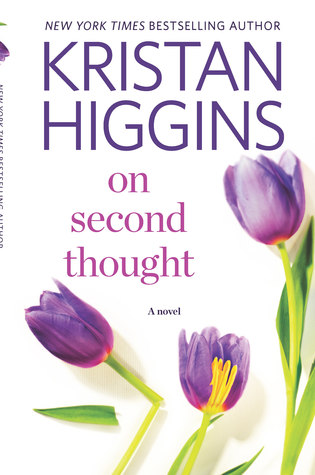 usually have great female friendships/sisterhoods to root for.
On Second Thought is no different. This book is told from the perspective of two step-sisters, each dealing with their own heartbreak; a recent widow and the other freshly out of an 11 year relationship. This book is sort of a companion novel to 2015's If You Only Knew. It is set in the same fictional town Cambry on the Hudson and features some of the characters such as Jenny Tate and her husband, Leo. However, you by no means must read If You Only Knew to enjoy this book.
The Good
There is a fantastic sisterhood again in this story. Kate and Ainsley have never been close before. They are a good 10 years apart in age, and being step sisters they've always had their issues/jealousies with one another. However, when each of them are going through their own romantic crisis, they come together as the best support system possible. I really loved watching the relationship between these two develop. My favorite scenes in the book were definitely when they were together.
Gram Gram is a delight. I did not like many of the side characters in this story but Gram Gram is a hoot. There are plenty of sad moments in this story, specifically with Kate is grieving the death of her husband, but Gram Gram served as the perfect comic relief. As the story goes on her role seems to grow. It's almost as if Higgins realized midway through what a delightful character she had created. She was basically Betty White from The Proposal and I loved it.
There were definitely interesting ideas about the "modern day wife." Kate and Ainsley are incredibly different. Ainsley is often described as being "vintage" because she dotes on her boyfriend and cooks dinner in pearls and heels. She loves to nurture and take care of people. She's seen doing the same for her sister later in the story. At the beginning of the story Kate is critical of her sister, believing her to be old-fashioned, but comes to realize this is how Ainsley shows her love and what brings her joy.  Kate is on the opposite side of the spectrum. She has had a successful career in photography, a fulfilling life in Brooklyn, and for the most part relished in her independence as a single woman before meeting her husband. Neither of these attitudes towards being a modern woman are judged or seen as the right or wrong way to behave.
The Bad
At time I felt like this one dragged on a bit. The chapters were quite long and I felt like there was plenty of stuff that could have been easily cut from the story. I have no problem with a longer book, but this book didn't need to be 480 pages. It probably could have told the same story with a hundred less pages.
The characters all felt a bit one dimensional. Kate and Ainsley really are the only two interesting characters that seem to grow and change. The parents, the love interests, and the friends all felt like one dimensional stereotypes. Their mother really bothered me. She is an advice columnist specializing in family matters. However, she's terrible to her own family. She always made Ainsley as an outcast and she doesn't even seem very maternal toward her own children. Even at the end of the story, when they try to redeem her character, I wasn't buying it. I also didn't like Ainsley's love interest at all. Higgins is definitely going for a Mr. Darcy vibe; overly-cordial, formal, stuck up at times. The problem is I didn't get their connection. He says he's interested in Ainsley, but he sure doesn't act like it. Even when they have began to date he continues to be cold and stiff towards her. It was a love story I just couldn't get on board with. Apart from those two, other side characters just felt lazily written; the jealous ex-wife, the mean girl best friend, the spoiled only child, the hot fire fighter. It just felt like a parade of cliches marching through the pages.
This story was light and fluffy. It's an easy read that I breezed through, with plenty of endearing moments. Fans of chick-lit are sure to enjoy it, even if overall I didn't find it as good as her last book, If You Only Knew. At times it is predictable, but that's expected with any rom-com story, so I found that forgivable. The writing is mostly good and the story is interesting enough to keep you reading.
xo,
Nikki