This month there's been a handful of books I read, I loved, and I never reviewed. I've been slacking in general this month with the blog. Work just seemed to be crazy busy this month and whenever I had free time I found I'd rather be reading than writing. Not a great excuse but it's the best I've got.
Instead of doing my full length reviews I'm going to simply tell you what I scored each book and why; what worked for me and what didn't.
A Good Idea by Cristina Moracho 
3 stars
This is a YA thriller in which a girl must prove her best friend was murdered and didn't simply go missing. She returns to her hometown in hopes of revealing the killer but unravels many more secrets than she could have ever anticipated. I enjoyed this book. It's dark and gritty with plenty of twists and turns. However, I did have quite a few issues with it. First off, the protagonist spends most of the book strung out on pills which doesn't seem like the best state for sleuthing. In fact casual drug use was a huge focal point of this book which I didn't expect going in. Second, the ending seemed too far fetched. I don't want to spoil anything but it just felt like the author was reaching a bit. Finally, this is one of the worst depictions of a LGBT relationship I could imagine. The protagonist is originally in a casual relationship with a boy and she's only ever dated boys. Then she sort of just creeps on over into relationship territory with a new female friend. I could see that happening in real life. What I didn't understand was why she didn't question what that meant for her sexuality and why she never wondered what others would say or think about her. I just don't think anyone makes that sort of transition so seamlessly. The book either should have explored these issues or avoided that entire plot point. It honestly wouldn't have made a difference to the overall story if the girls really were just friends. This felt more new adult than YA so I probably would only recommend it to older or very mature teens.
The Unbecoming of Mara Dyer by Michelle Hodkin 
4 stars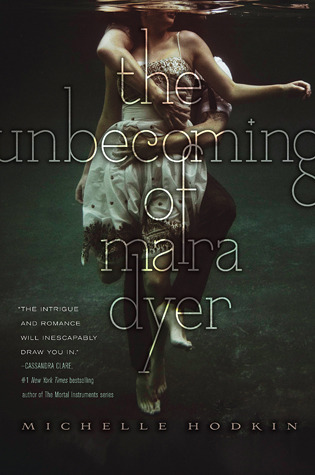 I enjoyed this book so much more than I expected. This was honestly a cover buy for me and I had very little idea what it was even about before reading it. I really, really liked it. Even though it's a brick of a book, it's super easy to read and I flew through it. It definitely kept me on my toes and there was more than one shocking moment I never predicted coming. On top of that I loved the romance in this story. Noah is a total dream boy and that alone will keep female readers happy. The only reason this wasn't a five star read for me was at times it felt a bit cheesy. There were a couple of scenes that were still fun but also eye-roll worthy…kind of like classic 1990's horror films.
Dead Letters by Caite Dolan-Leach
4 stars
When I first started this I was a bit underwhelmed. The summary on the inside flap promises a taut, fast-paced thriller. The first quarter of the book reads more like a family drama than a thriller and it definitely wasn't what I was expecting. Then suddenly the mystery starts to be developed and the pace significantly picks up. From that point forward it was a total thrill ride. The writing is incredibly clever, scattering literary Easter eggs throughout, which made the reading experience a blast. If you aren't loving it at first, keep chugging along. I promise it gets better with each page. My only real complaint, once the story was finished, was the ending. It felt rushed and therefore unsatisfying. This was a classic case of info dumping. I felt like suddenly the author needed to wrap things up so she tells us exactly how it all happened rather than showing us. If I had been more satisfied with the ending this would have gotten at least a 4.5 from me.
The Kiss of Deception by Mary E. Pearson
4.5 stars (maybe even 4.75)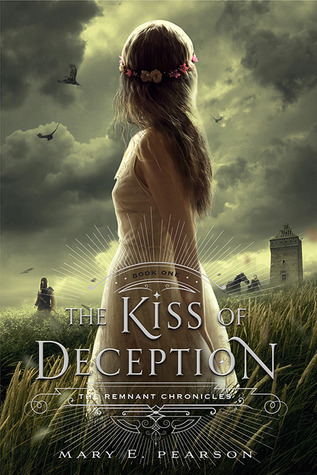 This book was everything and more I could have wanted. When I decided to read this I was specifically in the mood for fantasy with a hefty dose of romance. This fit the bill better than I could have imagined. In this story Princess Lia runs away on the same day as her arranged marriage. She starts a new life in a small town where she can be a normal girl. What she doesn't know is she is being followed by both her jilted prince and a barbarian assassin. The gimmick with this book is the reader has no clue who is the prince and who is the assassin. I was convinced I had it figured out until the big reveal. HOLY PLOT TWIST. I had to reread the page multiple times to make sure I was understanding everything completely. As if the plot twist isn't enough of a sell for the book, both the characters and the setting are amazing. I adore Lia. She makes smart decisions. She's loving and kind but she also knows how to stand her ground. She's a total badass and I think we'll see this develop even more over the course of the other two books. Then there's a very cinematic quality about the setting. The entire time I was reading this I kept thinking how it could work as a movie or even better, a TV series. It has a familiar fairy tale vibe about it but on much grander proportions. I was totally swept away in the story. There is a brief moment after the plot twist where I felt the story dragged, which is why it wasn't a perfect five star read for me, but it quickly picks back up.
Hopefully now that I've wrapped up those reads I can get back on track with more normal reviews. Fingers crossed!
xo,
Nikki