Done Dirt Cheap by Sarah Nicole Lemon
My score: 4.5/5
Average Goodreads score: 4.14/5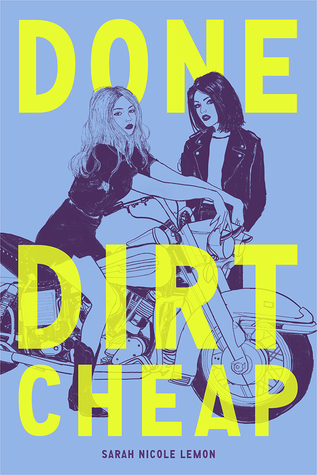 "Being young and naive was the worst thing I've ever done"
Thank you Sarah Nicole Lemon for giving us the answer to 2017's feminist battle cry. This book is seriously empowering. It's a book all about bad ass chicks sticking together and dominating life.
We're friends because when girls – women – are alone in the world, they're easier to pick off.
When I read this description I thought "female sons of anarchy? ya, pass." If it hadn't been for the vivid cover and the gushing reviews I would have totally skipped over this one. But this book is so much more than a story about bikers. It is one of the best female friendship stories I have ever read. The writing is fantastic, jam packed with sucker-punch quotes. The characters are fleshed out and multi-dimensional. The love stories aren't problematic and they also don't steal the show from the friendship story line. It's been a long time since I felt so emotionally connected to a book and I need everyone I know to read it so we can talk about how fantastic it is.
The Good
Tourmaline and Virginia are the coolest girls I've ever met. Virginia is one of my new favorite book characters of all time. She's confident, sassy, and quick with the sarcasm. She's the kind of girl you want in your girl squad.
Tourmaline drove me crazy at first. In fact, in my notes I wrote "nope. don't like Tourmaline." However, she shows so much personal growth throughout the story. I loved watching her discover who she was and the power she had over her situation.
Now she saw that she was also the girl with deep curves, cutoff shorts, and tangled hair, sitting on a bike, with all the wild and history that came with the last name Harris. That she'd been that all along, and no matter what she did, that history would work itself out in her bones.
Even better though, is the the chemistry between these two. The chapters where they are together, whether they're just gossiping about boys or scheming, are the absolute best. I loved their dynamic and I loved the way they each influence each other. Virginia shows Tourmaline how to be confident and to take charge. Tourmaline shows Virginia that she's worthy of being loved. It was a realistic friendship where at times they may have felt a surge or annoyance or jealousy at the other, but their love for one another always overshadowed those feelings and they were always quick to forgive.
Virginia hated her and envied her and loved her all in one terrible crush of annoying aching…
I am so sick of seeing "mean girl" best friends and this book shows friends can be each others biggest cheerleaders.
This book shatters stereotypes and proves there is more than meets the eye with every person. When we picture bikers we tend to think gruff and even violent. These men can be both of those things but they are also caring fathers and loyal friends. They may tip toe the line of the law but they also do things like champion children from abusive homes. Tourmaline appears to be a typical good girl, hanging out with her youth group in frilly dresses. Get to know her a bit better and you realize she has a serious edge and even has a passion for repairing motorcycles. My favorite image in the entire book was Tourmaline working on her bike dressed up in a girly white dress. The contrast seems jarring but it fits her character perfectly.
The writing is incredible. There were so many quotes that tugged at my soul and so many that made me say "yes, that, that's exactly how I feel." I literally made my husband listen to me rattle off passages from this book because the words. They're just so beautiful.
The love interests are perfect. First off, they aren't the main focus. They add a nice element, one that helps to soften both of the girls and to give us swoon-worthy moments. Second, other than an age gap there really is nothing problematic about their relationships. Both girls are in relationships with men who care for and respect them. Neither relationship feels one-sided or unbalanced. Some may argue Tourmaline and Cash are insta-love but I'd beg to differ. I think there is an immediate heat and attraction between them but the love comes in a slow burn. By the time they are truly in love they have experienced so much I would expect nothing less. I will warn that although this book is marketed as YA, some of the romantic scenes definitely fall into the new adult category.
The Bad
The only reason this isn't a five star read for me is I was a bit confused at the beginning of the book. There are a lot of characters mentioned in the first few chapters, some that we don't even meet until later in the book. The book is purposefully vague in those early chapters as to not reveal the entire story. It did take me awhile to completely fall in love with the book because of it though.
So, let me recap. This book is awesome. Read it. Thank me later.
xo,
Nikki